A nuclear power plant in your backyard and a Danish missile factory
Should Denmark focus on nuclear power? And do we need to invest more in defence technology? It may sound unrealistic, but both could become part of Denmark's future. These questions and many more will be discussed in the Tech Tent at the Democracy Festival of Denmark on Bornholm.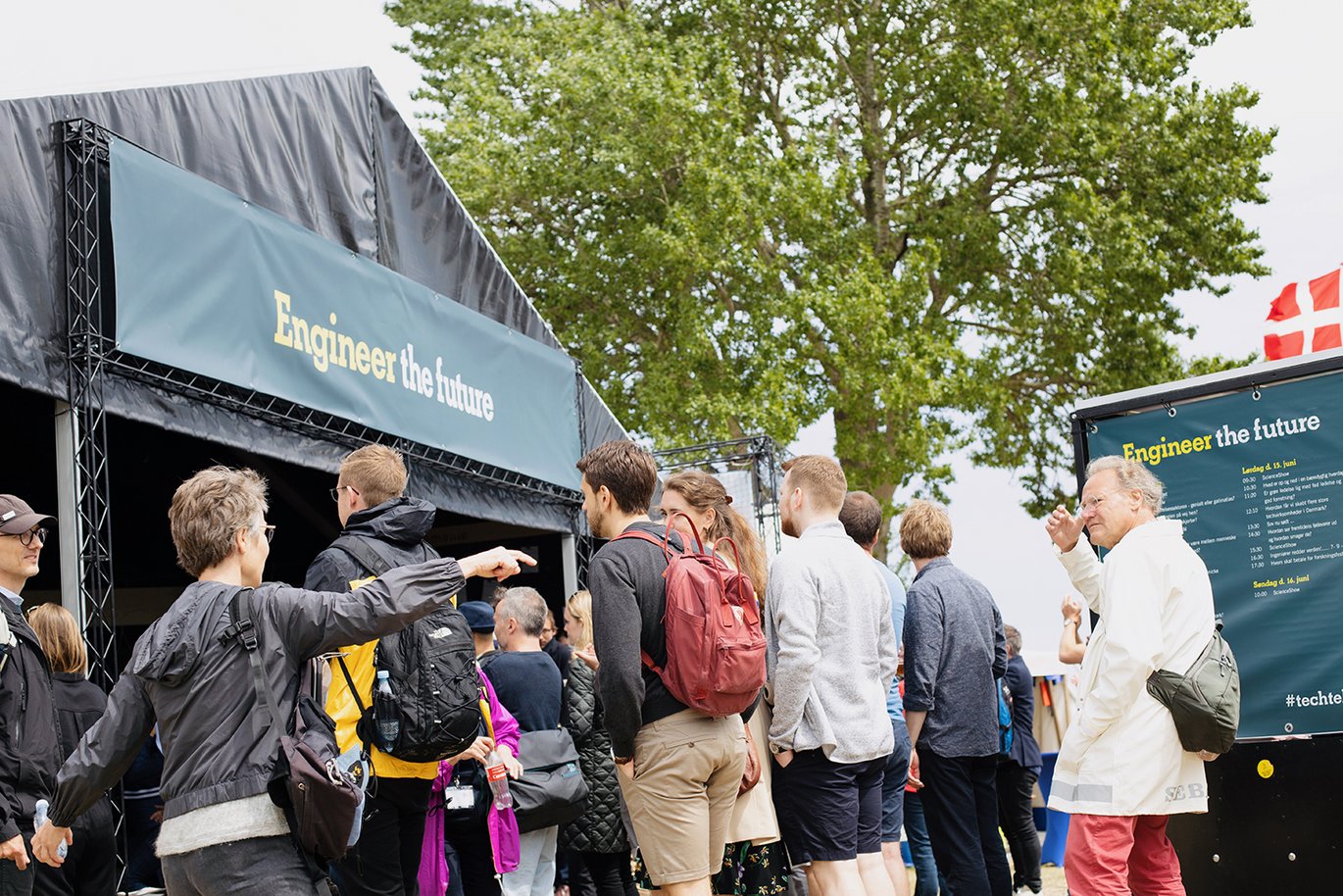 How are we going solve some of the biggest issues facing society? This will be the pivotal question in the Tech Tent when the Democracy Festival of Denmark (Folkemødet) kicks off from 15 - 17 June. Topics will include energy and energy storage, food, defence technology, pollution, climate and artificial intelligence.
The Tech Tent and its tightly packed programme is a collaboration between IDA, Engineer the Future, the Technical University of Denmark, the University of Southern Denmark, Aalborg University and Aarhus University.
"Technology has the potential to initiate a green transition and generate sustainable societies all over the world, but technology can also be controversial, give rise to ethical dilemmas and be a catalyst for debate. We can use technology to create a nuanced approach to issues and encourage inspiration and innovative thinking. To find new ways of doing things, but not always free of complications. The war in Ukraine has shown us that our global society is fragile. How can technological development help us in this? We look forward to pitching our tent on Bornholm and spend a couple of exciting days on the sunny island," says Eskild Holm Nielsen, Dean of Aarhus University's Faculty of Technical Sciences.
Nuclear power, green energy and defence technology
One of the topics that will be discussed in the Tech Tent is nuclear power. Even though the Danish Parliament decided in 1985 that there would be no nuclear power in Denmark, the debate has reignited in recent years. Could nuclear power become a major new Danish export? And does nuclear power fit in at all with the Danish energy network? We will open the debate and the audience will be invited to ask questions.
We will also discuss energy islands, offshore wind and the environment. How will energy islands affect the environment, and what consequences will they have for the energy system? Do climate and the environment always have to go hand in hand, or should we prioritise one more than the other?
Another major topic of discussion will be security and defence technology. Eighteen months of war and crises have shown us the importance of defence capabilities, but modern war is more than trenches and missiles. Sabotage, cyberattacks, and disinformation are just as much a threat to our Western democracies as conventional methods of attack. How much should Denmark invest in developing this type of defence technology?
Treasure hunt, space technology and food show
As always, there will be room for more than debates and opinions in the Tech Tent. We have an entire exploratorium down at the beach, where schoolchildren can go on a treasure hunt for new types of antibiotics. Guided by talented engineering students, the children will try to find previously unknown bacteria in the Bornholm soil. Bacteria that could perhaps be used to produce antibiotics in the future.
We will also give visitors an opportunity to try out escape rooms and explore the seabed with remote-controlled underwater robots. You can even have your brainwaves measured in real time with EEG equipment, and learn more about the technology we are sending into space with Andreas Mogensen to help astronauts sleep better.
We will also be hosting slightly different and more informal debates down on the beach. For example, Danish chef Nikolaj Kirk will be inviting politicians on stage to taste the food of the future, discuss ingrained eating habits (and how to break them), food innovation and the role of new technologies in the sustainable food production of the future for a growing, global population.
And as always, children and anyone else with a love of colours and explosions are welcome to join us in the Tech Tent for the traditional and entertaining science shows.
---
Contact
Jesper Bruun
Journalist, Aarhus University
​​​​​​Mail: bruun@au.dk
Tel.: +4542404140