Aarhus University steps up research into AI hardware
The Department of Engineering has appointed Hooman Farkhani as a new assistant professor. He will provide further impetus to the development of brand-new computing systems that can handle artificial intelligence.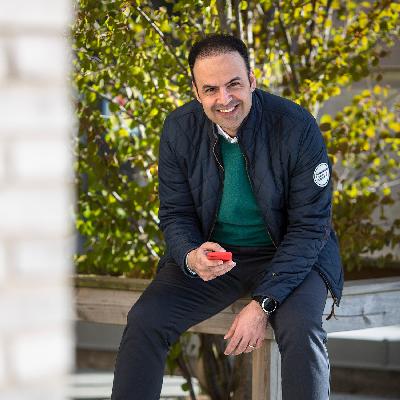 Artificial intelligence (AI) and machine learning have seen explosive growth in recent years, while state-of-the-art computing systems (CPUs and GPUs) are struggling to keep up with developments. Their high energy consumption while running AI algorithms is considered the most important barrier to using the artificial intelligence of tomorrow.
Therefore, researchers all over the world are developing brand new systems based on methods resembling the human brain. This includes Aarhus University, which is at the leading edge of AI hardware research, and which is now stepping up this research through the appointment of Assistant Professor Hooman Farkhani, who is an expert of emerging computer systems, i.e. hardware with the capacity to manage AI software.
"Although modern CPUs and GPUs can perform massive volumes of complex arithmetic-logic calculations, the human brain is still far superior when it comes to cognitive applications (e.g. image/video processing) in terms of energy consumption and density. Modern computers are not geared to running AI algorithms due to their word-at-a-time thinking architecture, and this is why we've started developing new hardware that mimics the structure of the human brain, with neurons, synapses and neural networks," he says.
Hooman Farkhani will be part of the ICE-Lab (Integrated Circuits and Electronics Laboratory) at the Department of Engineering, and he will start up his own research group, Emerging Computing Circuits & Systems, aimed at developing and designing computer architecture suitable for AI algorithms.
Hooman Farkhani has a background in electronics engineering and holds a PhD from the Ferdowsi University of Mashhad in Iran. Immediately after his PhD, he started to work as an assistant professor at Azad University, Najafabad branch in Iran for two years.
When asked why he decided to become an engineer, he explains that Lego can take much of the credit.
"I was 6 when I had my first experience with Lego. My uncle gave me a box of Lego, and I can't tell you how many times I took the blocks apart and reassembled them. And then I also quite liked maths. I think these are the two main reasons why I decided to become an engineer," he says.
As part of his PhD, Hooman Farkhani spent four months in Aarhus in 2013. Here, he became acquainted with the ICE-Lab and met Associate Professor Farshad Moradi, who is in charge of the lab and heads the research into neuromorphic computing and other fields.
Hooman Farkhani fell in love with Aarhus, the city and the university, and ever since his first visit, he has been yearning to come back to this 'genuine European city', as he calls it.
Today, Hooman Farkhani lives with his wife in Risskov, and he particularly enjoys walking along Egå Engsø.
---
Contact
Hooman Farkhani
Assistant professor, Aarhus University
Mail: farkhani@eng.au.dk