Digital brains to give SMEs easy access to digital twins
The EU Research and Innovation Programme, Horizon 2020, has granted more than DKK 70 million (EUR 9.4 million) to a new research project to make it easy for small and medium-sized European production companies to benefit from digital twins.
The global manufacturing industry is constantly evolving, and this challenges small and medium-sized enterprises (SMEs), which can quickly be squeezed out by the major players that have long been surfing the Industry 4.0 wave.
Using the latest digital technologies and advanced equipment in production often demands massive investment. And it is not always easy to predict whether the investment will be worthwhile.
A new pan-European research project will address this issue. The DIGITbrain project brings together 36 partners (universities, research institutions and businesses) in one task: To provide SMEs with easy access to try out digital twins in their production.
"We're developing a kind of production service for SMEs, so that they can try out digital twins in their production. Without risk, they can explore the modern digital technologies that are increasingly being demanded by companies in the manufacturing sector," says Professor Peter Gorm Larsen from the Department of Engineering, who is heading the Danish part of the project.
The project will allow SMEs from all over Europe to apply for funding to participate in the project. More than DKK 10 million of the project's total of DKK 70.4 million has been earmarked for SMEs that are not part of the consortium. In addition, a number of SMEs participating in the start-up phase of the project will be used as cases.
Danish participation in DIGITbrain consists of Aarhus University's Centre for Digital Twins, which is headed by Peter Gorm Larsen, and the Danish development company AGROINTELLI, which develops autonomous robotic solutions for the agricultural sector, and which is well-known for its autonomic tool carrier: Robotti.
(The article continues below the picture)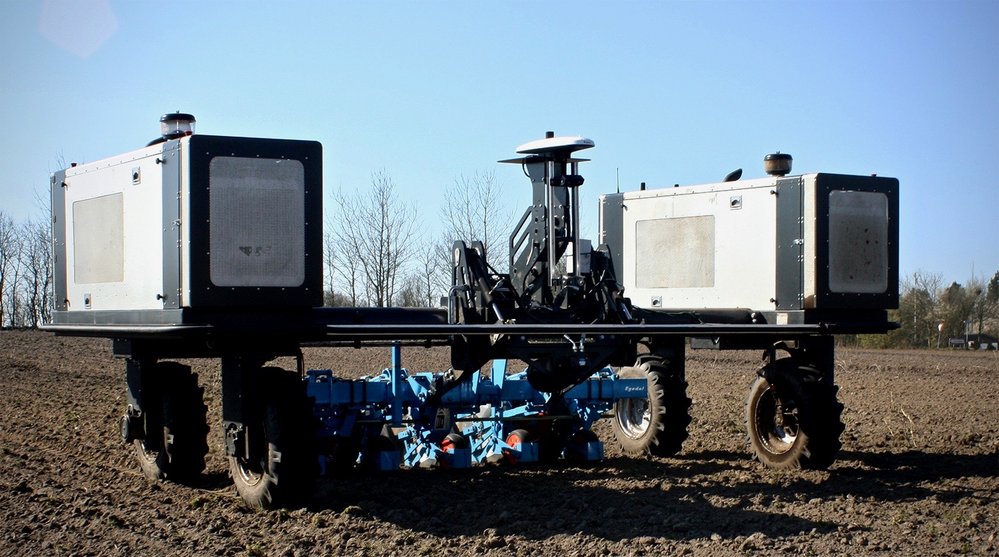 The autonomous tool carrier Robotti is going into serial production, and AGROINTELLI intends to use digital twins in the production. Photo: AGROINTELLI.
"So far, Robotti has been involved in a single-piece production process with a lot of manual work, but it is now going into serial production. We help companies to start with a digital twin of each robot coming out of the production hall. The digital twin is a digital copy of the cyber-physical system the robot represents, and it is made at the time of production to live on in the cloud throughout the life of the robot," says Peter Gorm Larsen.
Ole Green, CEO and founder of AGROINTELLI, says:
"Throughout the entire development process of Robotti, we've enjoyed fantastic collaboration with Professor Peter Gorm Larsen, and we've reaped huge savings by moving from physical prototypes to model-based development of Robotti instead. We're convinced that the DIGITbrain project will boost development of our upcoming large-scale production."
Production Director Thomas Vestergård agrees:
"DIGITbrian will provide us with a unique opportunity to build scalable digital production at a time when we're making significant investments in our production, and it's a fantastic opportunity to produce well-documented and efficient Robottis," he says.
The Department of Engineering at Aarhus University is the digital innovation hub for the project, where systems for digital twins are developed and further developed.
The project is being funded by a total of EUR 9.4 million. Euro or DKK 70.4 million from the EU Research and Innovation Programme, Horizon 2020.
---
Facts
A digital twin is essentially a complete digital copy of something physical. It can be an organism or a system, a process or a device. A digital twin is so accurate that it acts, reacts, ages and fails in the virtual world in exactly the same way as the physical twin in the physical world.
Via simulation, modern sensor technology and artificial intelligence the purpose of the digital twin is to simulate its physical counterpart to such an extent that it creates entirely new insight into the counterpart and it is possible to ascertain when the physical counterpart will not perform as expected. This can be extremely valuable for manufacturing companies, because they can improve the performance of a given product or even take it on to the next generation.
---
Project data
Title: DIGITbrain
Budget: EUR 9.4 mill. / DKK 70.4 mill. from Horizon 2020. .
Partners:
CIAOTECH Srl (PNO Group), IT
Fraunhofer-Gesellschaft zur Förderung der angewandten Forschung e.V., DE
clesgo GmbH, DE
University of Westminster, UK
Számítástechnikai és Automatizálási Kutatóintézet, HU
Deutsches Forschungszentrum für Künstliche Intelligenz GmbH, DE
Atos Information Technology GmbH, DE
ConSenses GmbH, DE
University of Applied Sciences and Art of Southern Switzerland, CH
cloudSME U.G., DE
Aarhus University, DK
TECHNOLOGY TRANSFER SYSTEMS SRL, IT
Stitching EGI, NL
University of Nottingham, UK
Instituto Tecnológico de Aragón, ES
ENIDE Solutions, S.L, ES
Stam S.r.l., IT
Innomine Digital Innovation Hub Non-Profit Ltd, HU
START 4.0, IT
Corporación Tecnológica de Andalucia, ES
Irish Manufacturing Research, IE
3D Medlab, FR
Agro Intelligence ApS, DK
TAMPEREEN KORKEAKOULUSAATIO SR, FI
Montimage EURL, FR
Faculty of Science, University of Kragujevac, SRB
DSS Consulting Ltd., HU
CAADEX Limited Liability Company, HU
Universitatea Lucian Blaga din Sibiu, RO
GIGANT Italia, RO
NXTCONTROL GMBH, AT
Fratelili Piacenza, IT
Porini, PT
Domina, IT
CROOM Precision Tooling Ltd, IE
INYMON, ES
---
Contact
Professor Peter Gorm Larsen
Department of Engineering
pgl@eng.au.dk
Tel.: +4541893260