New research in digital twins allows for much safer and more efficient construction
Artificial intelligence is a key word in two major EU-funded projects aiming to dramatically reduce the number of accidents and close call incidents on construction sites.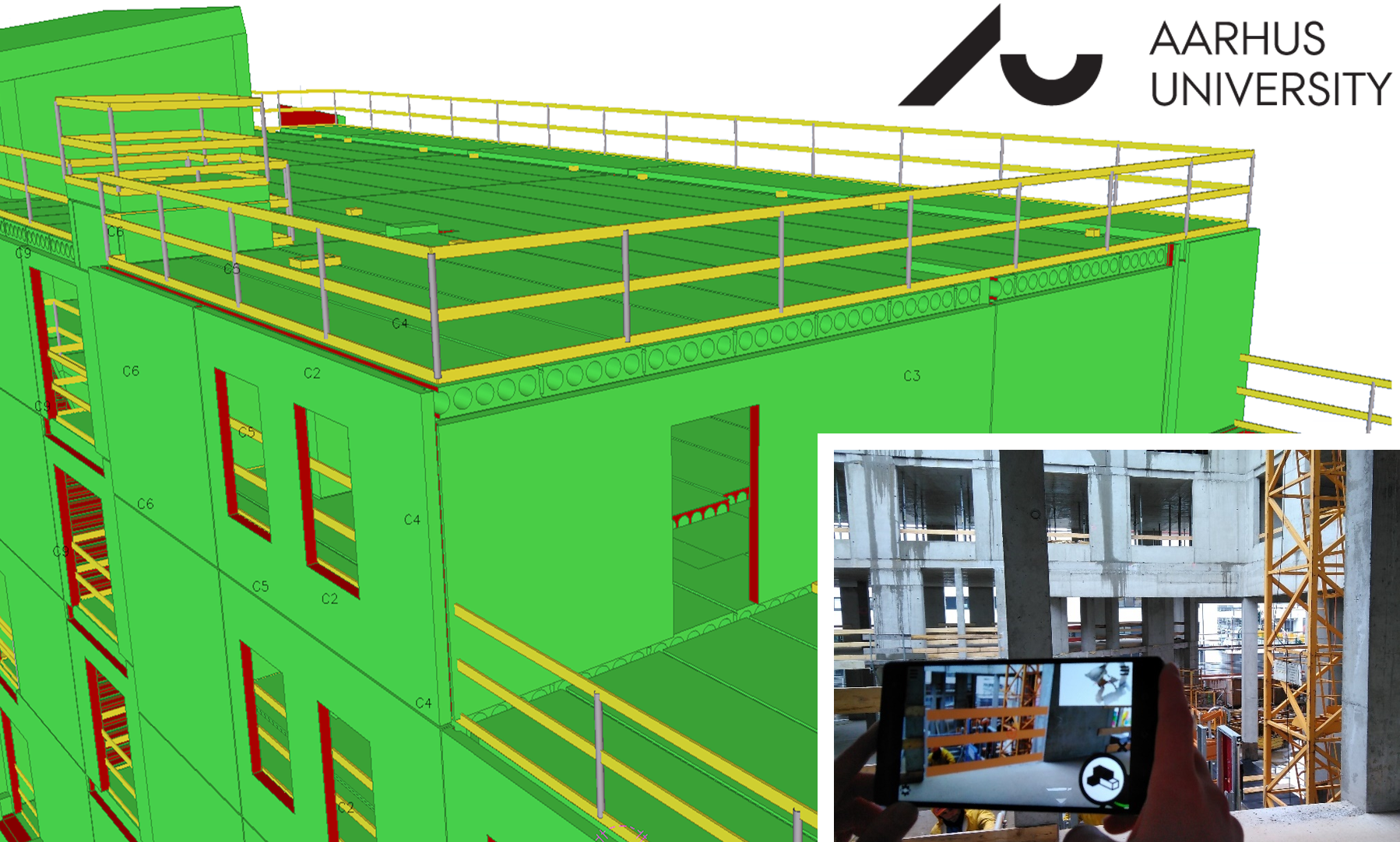 Globally, at least 60,000 people die, and millions are injured every year following accidents on construction sites. For example, in the European Union, construction-related accidents are responsible for more than one in five workplace deaths.
While human factors are still the main reason leading to accidents, the top four causes of construction fatalities are: fall from heights, struck by equipment or loads, caught in or between objects and electrocutions.
An interdisciplinary team at Aarhus University is part of two pan-European research projects that aim to make construction sites safer and more efficient. The projects are funded by the EU framework programme for research and innovation, Horizon 2020, by a total of DKK 89 Mio.
Both projects are associated with Aarhus University's Centre for Digital Twins, which is Denmark's only scientific center for digital twins.
"In both projects we propose a comprehensive, holistic approach to site management via a Digital Building Twin (DBT) platform that provides full situational awareness for construction management by implementing lean principles to reduce operational waste of all kinds, shorten schedules, reduce carbon footprint and costs, and enhance quality and safety, of course", says Associate Professor Jochen Teizer, an expert in construction safety at the Department of Civil and Architectural Engineering, Aarhus University.
Jochen Teizer is the principle investigator for the AU part of both new projects, named BIM2TWIN and COGITO.
BIM2TWIN (Optimal Construction Management & Production Control) focuses on building site safety via a DBT platform supporting a closed loop Plan-Do-Check-Act mode of construction and an extensive set of construction management applications. COGITO (Construction-Phase Digital Twin Model) focuses rather on infrastructure than on building construction applications.
Both projects started out in late 2020 and aim at demonstrating processes and technology that identify, eliminate and learn from hazards on real world construction sites. Some are located in Aarhus and Copenhagen in Demark and others in Austria, France, Greece, Italy and Spain.
"We are making an important contribution towards the ongoing digitalization efforts in the construction industry. Construction sites are rich of data that hardly ever are collected nor analyzed and digital twins promise a lot of benefits in this regard. They are much more than mirrors of the real world. When data streams from physical objects into their virtual counterparts, it allows understanding their correct state. The virtual world then helps us create safer and more productive real work environments," Jochen Teizer says.
---
ABOUT DIGITAL TWINS
A digital twin is essentially a complete digital copy of something physical. It can be an organism or a system, a process or a robot. Or a construction site. A digital twin is so accurate that it acts, reacts, ages and fails in the virtual world in exactly the same way as the physical twin in the physical world.
Via simulation, modern sensor technology and artificial intelligence, the purpose of the digital twin is to simulate its physical counterpart to such an extent that it creates entirely new insight into the counterpart and it is possible to ascertain and predict when something will go wrong in the physical counterpart.
Vision and wireless sensors, among other types of data collected on the building site, will work with neural networks to form a complete overview of the site and simulate its workflows very accurately.
This will make it possible to proactively detect hazards and possible risks for workers, as early as the project planning starts, and to warn them before any damage occurs.
PROJECT FACTS
Aarhus University contributes to BIM2TWIN and COGITO with an interdisciplinary research team from the Department of Civil and Architectural Engineering (CAE) and the Department of Electrical and Computer Engineering (ECE). In their work Associate Professors Jochen Teizer and Umberto Alibrandi (CAE), Assistant Professors Carl L. Schultz and Lukas Esterle together with Professor Peter Gorm Larsen (ECE) formalize and test a digital construction twin for construction safety and health. The team's core contributions are:
early hazard prevention through smart worksite planning using artificial intelligence,
proactive real-time construction site risk monitoring for prediction and avoidance before accidents occur, and
advancing decision making processes at all project levels and lifecycle phases using personalized feedback and learning.
Both projects form broad, multidisciplinary consortia with hand-picked partners (incl. Scientific and Technical Centre for Construction in France (CSBT), Cambridge University, Technion - Israel Institute of Technology, Technical University of Munich, French National Research Institute for the Digital Sciences (Inria), Fira Group, Intsite, Technalia, Acciona, Ruhr University Bochum, Spada, Marche Polytechnic University, Unismart, Orange, Siemens, IDP) who together provide an optimal combination of knowledge and experience in a variety of monitoring technologies, artificial intelligence, computer vision, information schema and graph databases, construction management, equipment automation and occupational safety.
Both BIM2TWIN and COGITO are associated with the Aarhus University Centre for Digital Twins.
More information to the projects can be found on these websites:
BIM2TWIN: https://cordis.europa.eu/project/id/958398
COGITO: https://cordis.europa.eu/project/id/958310
---
Contact
Associate Professor Jochen Teizer
Department of Civil and Architectural Engineering
Mail: teizer@cae.au.dk
Tel.: 93522229