New digital innovation hub is now opening
Aarhus University is new partner in TechCircle - an innovation hub, which opens on 20 April. Here, companies can seek advice and gain knowledge and technology insights for their digital transformation.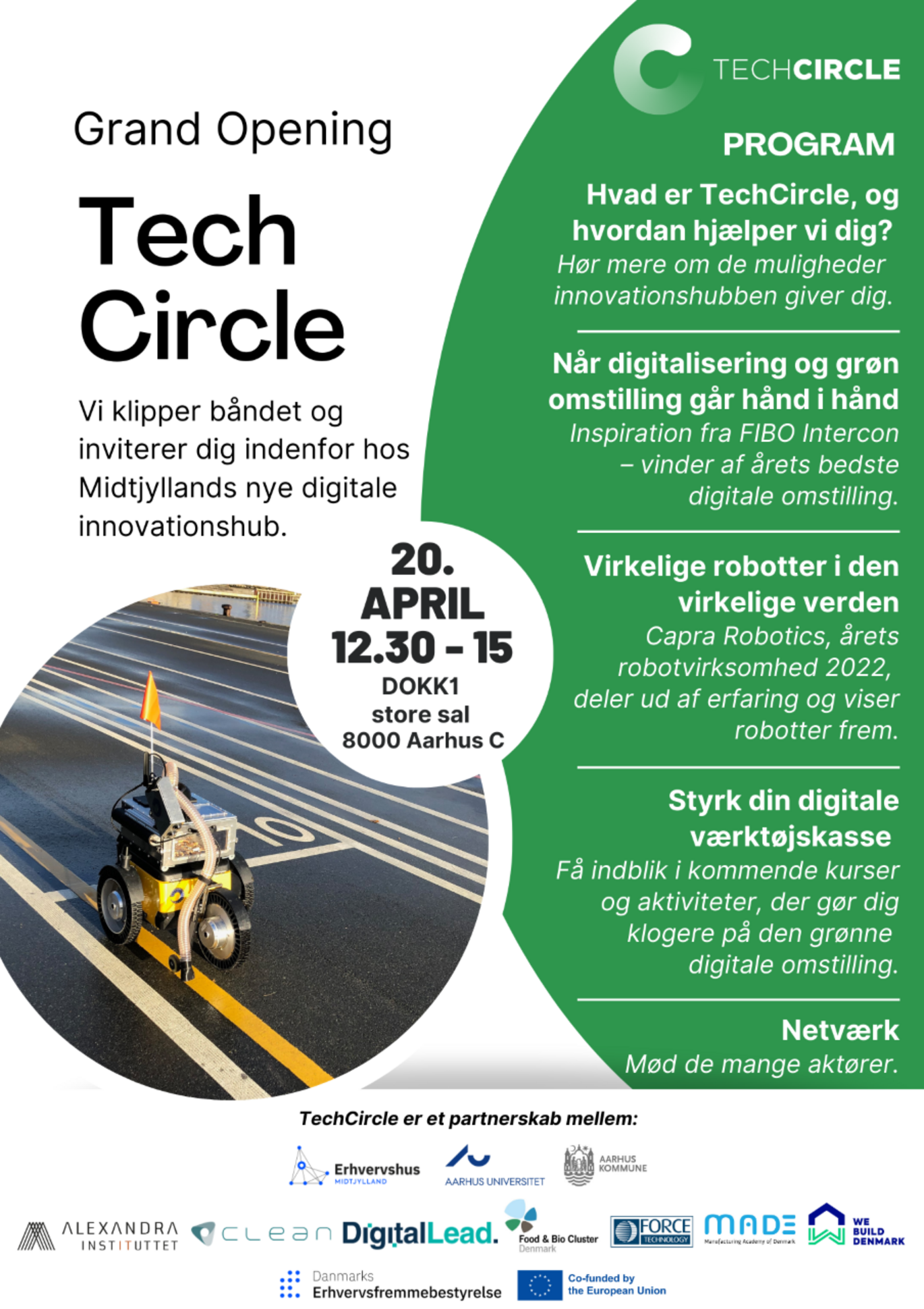 Aarhus University is new partner in the European Digital Innovations Hubs and ready to open the Danish hub named TechCircle on 20 April. Targeting small and medium-sized enterprises, the hub aims to promote the adoption of advanced digital technologies that can drive innovation and business development.
One of the key features of the hub is its focus on offering companies easy access to a wide range of services. These services include relevant guidance, expertise, courses, workshops, innovation groups, and testing facilities, all aimed at promoting the uptake of digital technologies among businesses in the region. This is important in helping SMEs stay competitive in an increasingly digital world, says Jesper Askov Bonde, project manager, Department of Electrical and Computer Engineering, Aarhus University:
"It gives us good opportunities to intensify cooperation with other knowledge institutions and the region's business community, and our goal is to bring the latest digital technologies into use in an industrial context, where it can support economic growth and strengthen the companies' green transformation."
TechCircle is one of approximately 200 hubs in Europe which aim improve the transfer of knowledge about digitisation between research institutions and industry with a particular focus on big data, data analysis, cyber security, artificial intelligence, digital twins, mobile robots and IoT.
Also read the article: New professor predicts a total digital transformation of our industry
Welcome to the opening of TechCircle
Does TechCircle sound interesting to you and your company? Or are you just curious about what TechCircle is?
So mark your calendars for April 20, when the ribbon is cut for Central Jutland's digital innovation hub.
It is free to participate in the opening of TechCircle, which takes place in Storesal at Dokk1 in Aarhus.
About TechCircle
TechCircle is part of a European network with the aim of sharing knowledge and building European capacity in advanced digital technologies.
TechCircle is a partnership between Erhvervshus Midtjylland, Aarhus University, Aarhus Municipality, Alexandra Institute A/S, Force Technology, DigitalLead, We Build Denmark, Foreningen MADE, Food & Bio Cluster Denmark and Clean
TechCircle the European Digital Innovation Hub of Central Denmark is supported by the Digital Europe program under the European Union and by Denmark's Business Promotion Board.
Contact
Jesper Askov Bonde Petersen, Project manager, Department of Electrical and Computer Engineering, Aarhus University