Soluble, printable sensor to measure pressure inside the body
With a grant from Independent Research Fund Denmark of DKK 2 million, a team of researchers from Aarhus University hopes to develop a sensor made of novel conductive materials that can be implanted in the body, accurately measure the pressure of the selected organs, and then dissolve when it has finished its task.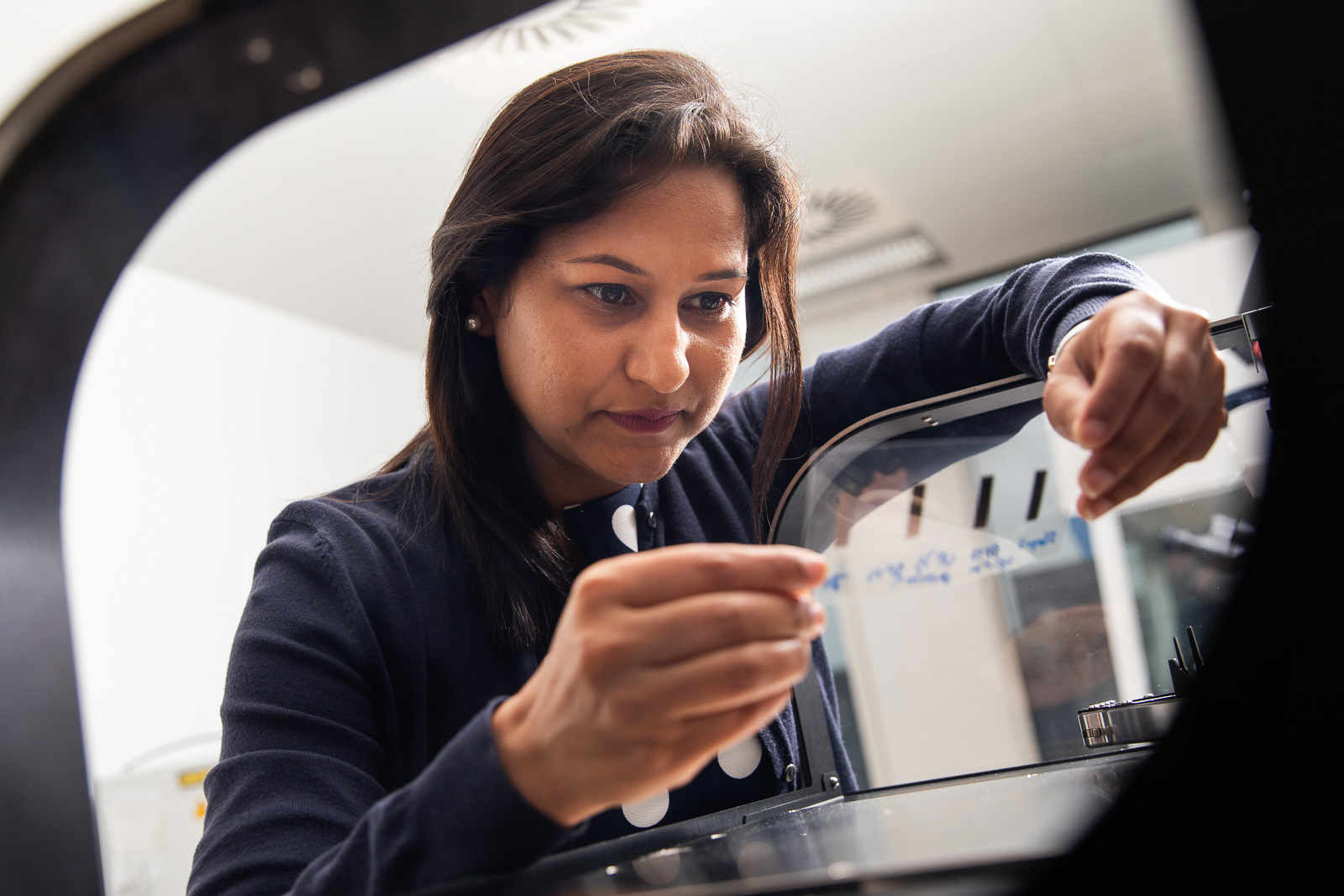 A team of Aarhus University researchers has set out to develop printable, soluble sensors to be used inside the human body.
The research team is headed by Assistant Professor Shweta Agarwala from the university's Department of Electrical and Computer Engineering and she has just received a grant from Independent Research Fund Denmark of DKK 2 million for the project, called Bioresorbable Force Sensor using a Biodegradable Piezoelectric Material.
The project will develop a biocompatible and 100 per cent biodegradable piezoelectric material, which can function as an implantable, flexible sensor to measure pressure on organs.
"There is growing need for implanted devices to be flexible, biocompatible and biodegradable to avoid invasive surgery removal. Measuring the pressure in the brain, the bladder and the heart for example can ensure that implants are working properly and also be indicative of internal bodily health," says Shweta Agarwala.
Modern implantable bioelectronic devices are exclusively made of rigid, hard components, and this causes problems when they interact with soft human tissues. Furthermore, they are not soluble, and surgical intervention is necessary when they are to be removed from the body.
Using printed electronics, PE, the research team will develop flexible electronic materials and devices that can be broken down into safe, non-toxic residues after a predetermined period of time.
Combining biocompatible electronic materials with printing technology opens the door for many possibilities, for example sensor units that can monitor implant acceptance, degradable antenna systems and drug-delivery vehicles for targeted organs.
"We're investigating the piezoelectric properties of a wide range of materials currently used in tissue engineering. On the basis of these studies, we'll design circuits and use the right printing methods to develop a flexible sensor that is bioresorbable in the human body and has mechanical features close to human tissues. Through this project we wish to investigate the correlations between transient behaviour of materials and their electronic properties in biological medium for biomedical devices. This is so far a totally unexplored area," explains the assistant professor.
Piezoelectric materials convert mechanical power into electrical energy, and vice versa. Most of the inorganic piezoelectric materials used today are biocompatible, but not biologically degradable. In the project, the researchers will use polymer-based materials and modify their microstructures to improve the piezoelectric properties of the materials and biodegradability.
---
Additional information

We strive to ensure that all our articles live up to the Danish universities' principles for good research communication (scroll down to find the English version on the web-site). Because of this the article will be supplemented with the following information:


Funding
Funded by the Independent Research Fund Denmark (DFF) with DKK 2 million (EUR 270K)
Collaborators
Department of Electrical and Computer Engineering, Aarhus University.
Read more
Read more at the DFF web page here.
Contact
Assistant Professor Shweta Agarwala
Department of Electrical and Computer Engineering, Aarhus University
Tel.: +45 93521874
Mail: shweta@ece.au.dk